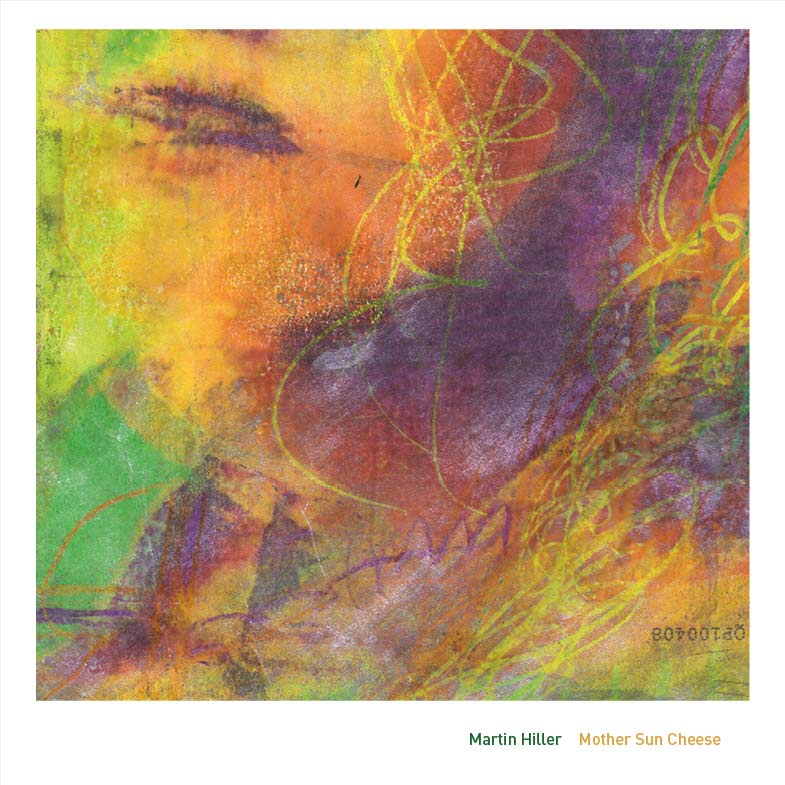 Martin Hiller – Mother Sun Cheese
After "By The Gony State", Martin Hiller releases another conceptual work of minimal music full of subtle changes within a steady pulse of wabbling sounds. The new work, "Mother Sun Cheese" is a 53 minutes album made of five pieces that form a coherent unit.
The music presented on this album seems to be repetitive, but in fact, every apparent repetition heard here is a slightly different descendant of its preceded phrase. The pieces continuously develop while they lollop on a serene and sedate pulse. In its conceptual nature, "Mother Sun Cheese" is bound to a strictly formal approach. In the resulting music, the album is a lurching trip on steady, yet also odd rhythms leaping onwards.
Martin Hiller – Mother Sun Cheese
The release "Mother Sun Cheese" consists of five tracks, whereas the title-giving, instrumental movements "Mother Sun Cheese I" and "II" wrap around the three inner pieces, which partly contain vocal bits.
Completely made with the concept of "Transpulsitions", the five tracks are compositions based on structural and aleatoric principles. A selected fragment of audio material is sent through an automated process that sort of scans slowly through the source material and rearranges short and changing bits of it into an ongoing pulse of sound. By slowly altering the root positions of the fragments taken from the source material, the resulting tracks constantly develop. They do this so slow that they seem to be repetitive. The results are wayward, yet also soothing, seemingly monotonous recordings that sound like being made of loops but aren't.
The framing tracks "Mother Sun Cheese I" and "Mother Sun Cheese II" are instrumental pieces based on twangy and ligneous sounds of strummed acoustic guitars. A ground of leisurely plunked textures determines the tonality for these and also the other three pieces on the album. The sound aesthetic is dry and warm. The rhythms are wry, odd, yet also calm.
The following piece, "Melody Strew", adds intimate vocal humming sounds to a similar slow-paced plucky sound. "Myrtle So Dew" goes into the realm of weirdly pitched and tender sung tones. If any of the tracks could do so, this piece might most likely reveal the unspecified source of the audio material on which the pieces are based.
Finally, the fourth and penultimate track, "Ocean Kitty Rain Mate", is a laid back, meditative lullaby, dandling like some cheerful, swirled thoughts in a crooked nutshell.
Steady-going, shaggy tumblings
Similar to its predecessor, "By The Gony State", the new work "Mother Sun Cheese" is a challenging listening experience, that should be heard with concentration and attention. When one has synchronized with the inner rhythms of these constantly, slowly shifting and pulsating pieces, one will get aware of the subtle changes and inconspicuous developments. With this attentive listening, the steady-going mid-tempo rhythms become a stirring scape of sound that can make the listener drift away in these organically unfolding, shaggy, dry-droning tumblings.
Tracklist
01. Mother Sun Cheese I 09:23
02. Melody Strew 11:50
03. Myrtle So Dew 10:55
04. Ocean Kitty Rain Mate 08:46
05. Mother Sun Cheese II 12:41
Download w/ digital booklet
The album is released on 04/05/2020 on Rakkoon Recordings with the catalogue number RAKK09N. It is available as a download with a digital PDF-booklet and a limited CD edition in a 7-inch sleeve with various printed inserts via bandcamp.
The artwork is based on the mixed media painting "Débauche Tamisée II" by Martin Hiller.
Video-Trailer
A one-minute video-teaser for the album was made to be played as a loop.
"Wie schon das Album "By The Gony State", das ebenfalls mit automatisierten Prozessen meines Konzepts "Transpulsitions" entstand, eignet sich "Mother Sun Cheese" gleichermaßen für ausgedehnte Séancen der Irritation und Meditation."