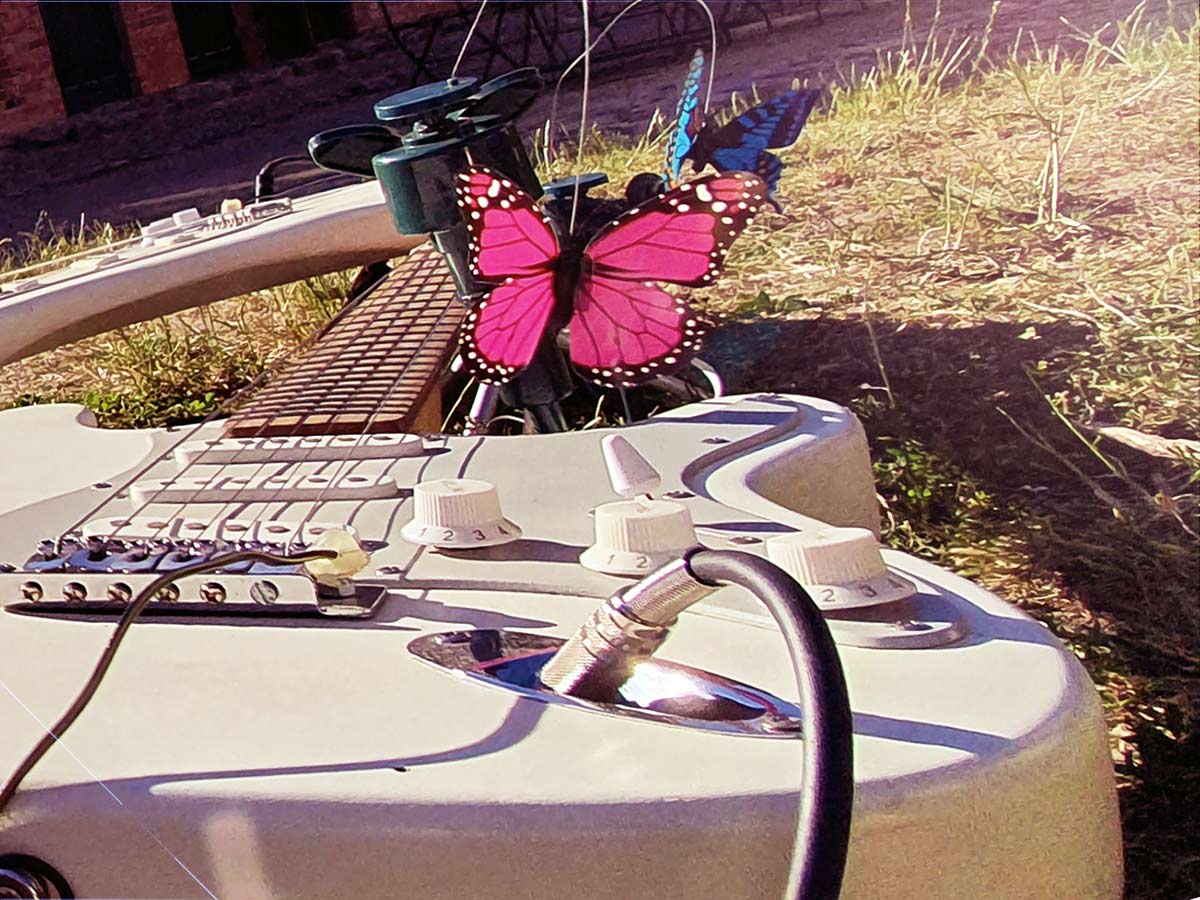 Flutterbies – Audio-Installation for three guitars and electro-mechanical butterflies
Flutterbies is an audio-installation by Martin Hiller for multiple guitars played by electro-mechanical butterflies.
Flutterbies – Audio-Installation for three guitars and butterflies
The plastic butterflies are attached to flexible wires and set in motion by small electric motors. The butterflies, flutter, bounce, brush, strive & cling randomly over the strings of the guitars. An aleatoric, soothing, decelerated music evolves – constantly altering and meandering.
As a self-running audio-installation Flutterbies produces music for hours and hours. The guitars are tuned in a specific way to create manifold, rich-textured, harmonic aural progressions. The butterflies can be controlled individually by on/off buttons, making Flutterbies an interactive experience.
The installation can be set up outdoors and runs on a small battery-powered soundsystem. Occasionally, Martin Hiller also incorporates the installation in a live perfomance and plays additional instruments, gently layering the sounds of Flutterbies by looping segments and adding effects like reverb and delays.
Flutterbies – part of a Series of Sound-Art-Works
Like Martin Hiller's other soundworks Droops, Oscillations, Mantra Marien and fünftausend bimmeln, the installation of Flutterbies makes use of electro-mechanical techniques to bring guitars to sound.
In Flutterbies, small plastic butterflies play the strings. Within Droops, guitars are played by waterdrops. Oscillations used a pendulum placed above the guitars, rotating over the strings. And 5000 small bells fell onto the guitars in the setup of fünftausend bimmeln.
Sound-Art with aleatoric principles
As a sound-art based on physical contact of objects and instruments, these installations by Martin Hiller are works that focus on minimalistic, kinetic setups and pure aleatoric principles. The concepts are plain & simple. No calculations or programmings are used to generate the music (of course, there are basic structural things considered when creating the setup). The sounds are produced through random movements and behavior of the objects involved. The resulting music is constantly altering, always evolving & meandering, yet also minimalistic, monotonously coherent and in its soothing qualities finally rather beautiful. The music generated in Flutterbies is purely: sounds happening.
These aleatoric audio-installations reflect and implement elementary approaches and thoughts in Martin Hiller's conceptions of music and sound.
"The Music of Martin Hiller is based on Minimalism with a strong Relation to aleatoric and repetetive Structures. His music incorporates Elements of Lofi-Homerecordings, spectral Processings, Guitar-Maelstroms and synthetised and / or sequenced Elements. Using various Methods from Tapeloops to digital Processings, he builds blistering Billows of marbling Textures and blissful musical Movements with freewheelin' Overtones – making his Live-Gigs to joyfully meditative freeform Fripperies in the fields of conceptual Aleatoricism and buzzing, emotive Improvisations."
The images and video shown here were taken during "Kunst:Offen" in June 2020, when Flutterbies was presented at the Büdnerei Lehsten.
Video – Flutterbies by Martin Hiller
Gallery – Flutterbies as set up at Büdnerei Lehsten, June 2020
Social Media
Some collected sharings, carings & impressions from the world weird web.
..
Stay tuned for upcoming performances or setups of Flutterbies and other projects by Martin Hiller here on the Concerts section. You can get in contact here.