M. Kardinal & The Kanadagans at Spektrum Berlin
M. Kardinal & The Kanadagans
"Not All Those Who Wander Are Lost"
An Audio-Visual Performance
Date: 09.09.2016
Doors: 19:30 / Start time 20:30
Entrance: 5,00 € – 10,00 € (up to your offer)
Bürknerstr 12
(U8 Schönleinstr., exit Brücknerstr.)
12047 Berlin (Germany)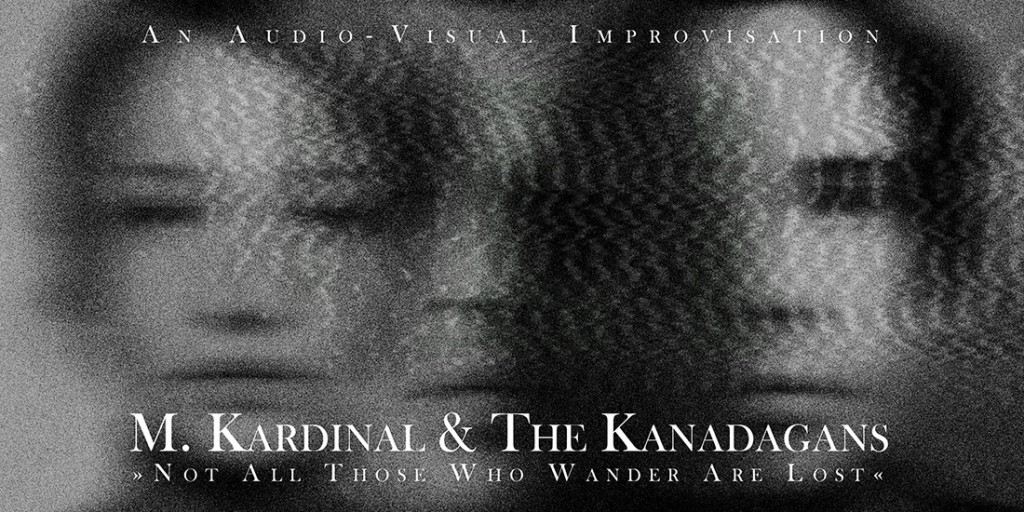 Details
M. KARDINAL & THE KANADAGANS worked in 2014 together, and the result of this collaboration is the video work TSCHAIKA wich was discussed in detail in the French online video magazine VIDEOFOCUS STIGMART10, and screened in New Zealand, Italy and different locations in Berlin. After a two year break they decided to meet again and celebrate the beauty of their energy in an audio-visual live improvisation in the heart of Kreuzberg/ Neukölln at SPEKTRUM.
NOT ALL THOSE WHO WANDER ARE LOST is an audio-visual journey through the invisible movement of urban landscapes and their sounds. Created from found footage of urban environments, the running magnetic tape will be analogue manipulated with a modified video mixer. The visual motifs created by M. KARDINAL sway into the music by THE KANADAGANS and vice versa. Based on guitars, FX-pedals and synthesizers, they create humming-buzzing drone music.
Dealing with the aspects of intuition, distortion, minimalism and monotony the audio-visual cooperation leaves the established paths of perception, finding the hypnotic pulse of urban landscapes channeling its vibration through the malfunction of the machine. Exploring the medium through malfunction as a homage to the poetry of failure. A cathartic wander through humanity in the machine, and a tribute to the emotive – often flawed – feedback of the human mindscape. Gleaning and wafting within an intuitive communication that rises from the mutual submersion and a subliminal sense for the playing and phrasings of each other's musical and visual counterpart. Not all those who wander are lost.
M. KARDINAL is a visual artist working with photography, moving images and multimedial installations. Driven by a long experience with experimental photography and her preference for analog working methods she started in 2012 to work with obsolete video technique, circuit bent machines and toy cameras. Her work has been internationally exhibited, screened and discussed including the Anthology Film Archive in NYC (USA), Festival Alto Vicentino (Italy), SI Fest OFF (Italy), Wellington Underground Film Festival (New Zealand), International Short Film Festival Detmold (Germany), European Month of Photography Berlin (Germany), Scope Session Berlin (Germany) among many others. more about M. Kardinal
THE KANADAGANS are a musical Freeform-Drone-Duo consisting of HUEY WALKER and BASSBEES, formerly founded in 2012 as THE SPLENDID GHETTO PIPERS. They play free music, well-tempered noise, experimental scapes and meandering drones. They played concerts in Berlin, Greifswald, Hamburg, Rostock and at the Fusion- and the at.tension-Festival in Lärz. They shared the stage with bands and people like Sun Worship, Ronald Lippok and Bert Papenfuss. Their music has been released on Huey Walker's DIY- label "Rakkoon Recordings". more about The Kanadagans
SPEKTRUM is a space of convergence for cultural communities and transdisciplinary groups emerging and operating in and off Berlin. The project aims to bring confrontation, open knowledge and a platforms for idealisation, realization and presentation of technology-based artworks, science-focused events and futuristic utopias based on the principle "do-it-together-with-others". Above all, their are an open space promoting participatory processes to co-define and co-design a social and physical playground for curiosity and critical understanding. The venue is part of a monumental architecture in the heart of Kreuzberg/Neukölln realized by Franz Hoffmann and Bruno Taut, one of the main expressionist architects of the modernist period. The inner space is characterised by a multi-layered approach to heights, with an unusual 5 meter high ceiling for the event room and other sections organized as split-levels. These architectural qualities tell a story of planes and volumes, offering guests a surprising walk around with secret spots to discover. more about Spektrum
SPEKTRUM has been concepted and set up by Alfredo Ciannameo and Lieke Ploeger. NOT ALL THOSE WHO WANDER ARE LOST is part of regular guest program that is curated by Aude François who is a member of SCOPE SESSIONS – a meeting point for the creative and the curious, a platform for sharing and learning in an informal setting.