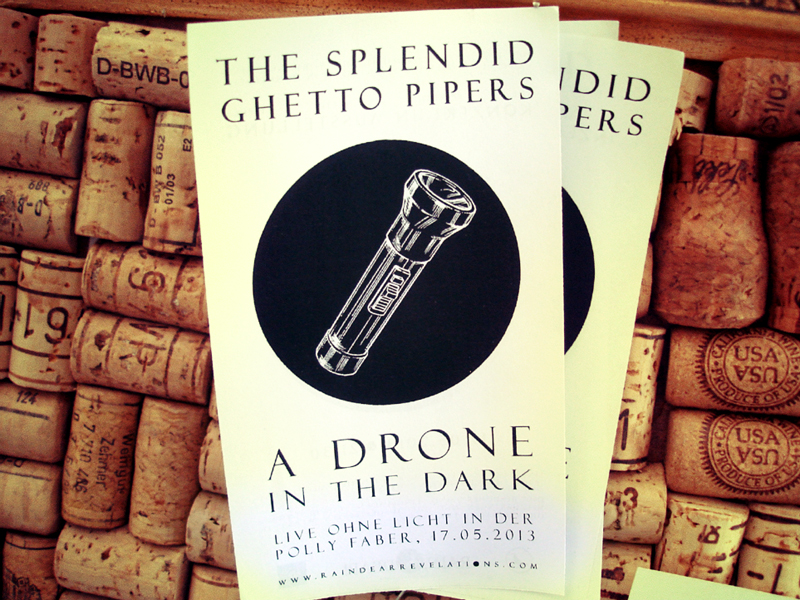 News: The Splendid Ghetto Pipers live ohne Licht
Die Polly Faber schließt die Vorhänge und öffnet die Türen für ein Konzert in Dunkelheit.
Das Klangsucher-Duo "The Splendid Ghetto Pipers" spielt im Rahmen der Ausstellung "P365" der Greifswalder Künstlerin Swinx ein Konzert ohne Raumlicht. Die Besucher sind eingeladen, im klanglichen Nebel aus mäandernden Drones und psychedelischen Gitarrenminiaturen die ausgestellten Kunstwerke mit Taschenlampen zu erkunden.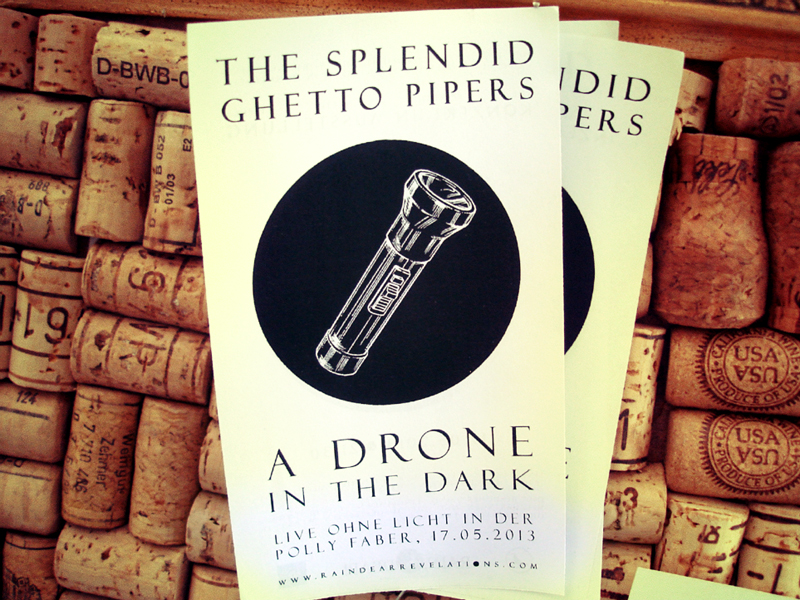 Die The Splendid Ghetto Pipers spielen als Live-Improvisateure in Duo-Formation freie Musik, wohltemperierten Lärm, entschlackten Zeitlupen-Shoegaze und echotische Geräuschteppiche, die in langsamem Wandel im Off aus Echo & Hall verebben.
File Under: brummende Kühlschränke, das Surren in den Überlandleitungen zwischen morschen Hochspannungsmästen, müdes Knistern eines alten Umspannwerkes.
Mitgebrachte Taschenlampen bringen Erleuchtung und erleichtern die Orientierung im Raum.
Ankündigung
The Splendid Ghetto Pipers spielen "A Drone In The Dark"
Konzert in verdunkelter Ausstellung
17.05.2013 – 21:30 – Polly Faber, Greifswald