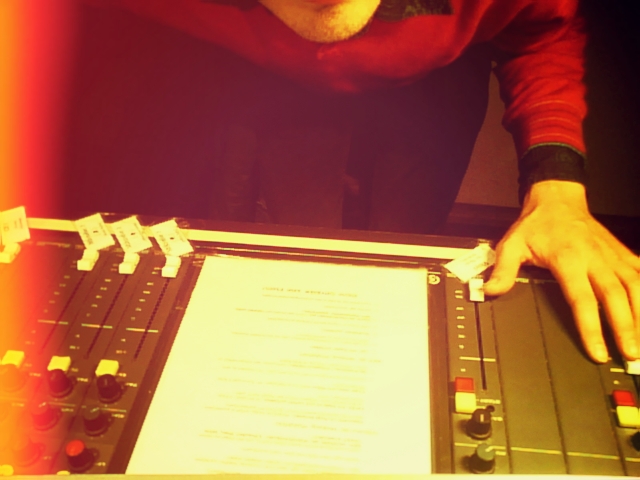 Zonic Radio Show Nord, 26.04.2012 – Märchenwesentliche Mehr&Meerwertmusik
Liebe Läutenden, liebe Geläuterten, liebe macht blind und liebe Leute, Folgendes, so hören Sie: In den jungen Maibuchen hängen die letzten wohligen Klagesounds des ausgehenden Aprils. Ein leiser Mülltütenwind sammelt sie ein und schickt sie flockig ins Tal. Viskos und schwärmlich rollen sie schlosswärts, einige kalonkern unbeholfen unter Eulenaugen in den Seitenströmen mit, blind und dicht von all der Raserei.
Dann war die Sonne unter.
Die Sau!
Aus nun diesem nachtschattigen Märchen-Setup erwächst sie: die donnerstägliche Zonic Radio Show Nord am 26.04.2012.
Mit Burggraben-Drones von Petrels bis BVDUB, pergola-laubigem Kathedralen-Dubfolk von Air Cushion Finish (on Tour!), verästelten Innersoul-Erkundungen von Jandek (letzte Woche live in Berlin!), verwunschenen Reinterpretationsjuwelen der Lumières Claires (Reworks-Compilation soon to be released!) und etwas (nächste Ausgabe mehr!) Kickstart-Pop von Doctorella und Donkey Princess.
Wer da nicht mitträumt ist ein Traumichnicht.
Nachhören
Diese Zonic Radio Show Nord wurde am 26.04.2012 terrestrisch (und via livestream) auf radio 98eins aufgestrahlt. Einen Nachhör-Stream gibt es hier in der Mediathek der Medienanstalt M-V.
Playliste
Ravi Shankar – The Seriousness Of It
Raga: A Film Journey To The Soul Of India (OST)
East Meets West Music
KTL – Estranged
KTL
Editions Mego
Mount Eerie – The Place Lives (Version)
The Tomlab Alphabet Singles Series From A To Z: Ö – 7″
Tomlab
The Unity Sextet – Until the Next Time
The Unity Sextet
Légère Recordings
Mount Eerie – The Place I Live (Version)
The Tomlab Alphabet Singles Series From A To Z: Ö – 7″
Tomlab
Petrels –  The Statue Is Unveiled With The Face Of Another
Haeligewielle
Tartaruga / Denovali
Lee Ranaldo – Ambient Loop For Vancouver (exc.)
Ambient Loop For Vancouver (To Accompany "Road Movies" Lee Ranaldo "Photographs" Leah Singer)
Important Records
Frank O'Hara – September 14, 1959 (Moon)
The Voice Of The Poet: Frank O'Hara
Random House
Mohn – Saturn
Mohn
Kompakt
Mohn – Das Feld
Mohn
Kompakt
Huey Walker – Wiesenland (Rough Version)
Wiesenland / Landwiese
(Unreleased)
Neil Young – #5
Dead Man
Vapor
Neil Young – #6
Dead Man
Vapor
Air Cushion Finish – Der Pate
Bleifuss
Biesentales
The New Mastersounds – Freckles
An Introduction To The New Mastersounds (Vol. 2)
Légère Recordings
Air Cushion Finish – Going Home
Lilli
Biesentales
Jandek – Upon The Grandeur
One Foot In The North
Corwood Industries
Lumières Claires – Strolling With Billy Pilgrim (Julie Corot | Cover)
Please Don't Focus On My Mistakes. Please Don't Focus On My Mistakes. Reworks.
Laube Records
Lumières Claires – Time Exposures (Milky Bear | Remix)
Please Don't Focus On My Mistakes. Please Don't Focus On My Mistakes. Reworks.
Laube Records
Bvdub – I Would Have Waited
Songs For A Friend I Left Behind
Distant Noise Records
Doctorella – Like A Black Butterfly
Doctorella – Drogen und Psychologen
ZickZack
Doctorella – Träum Den Übernächsten Traum
Doctorella – Drogen und Psychologen
ZickZack
Donkey Princess – Mr. Wrong
Bum Khun Cha Youth Vs. Donkey Princess – Cliquenedition #3 – 7″
Schinken Omi / Ritchie Records / Flight 13 / Tumbleweed