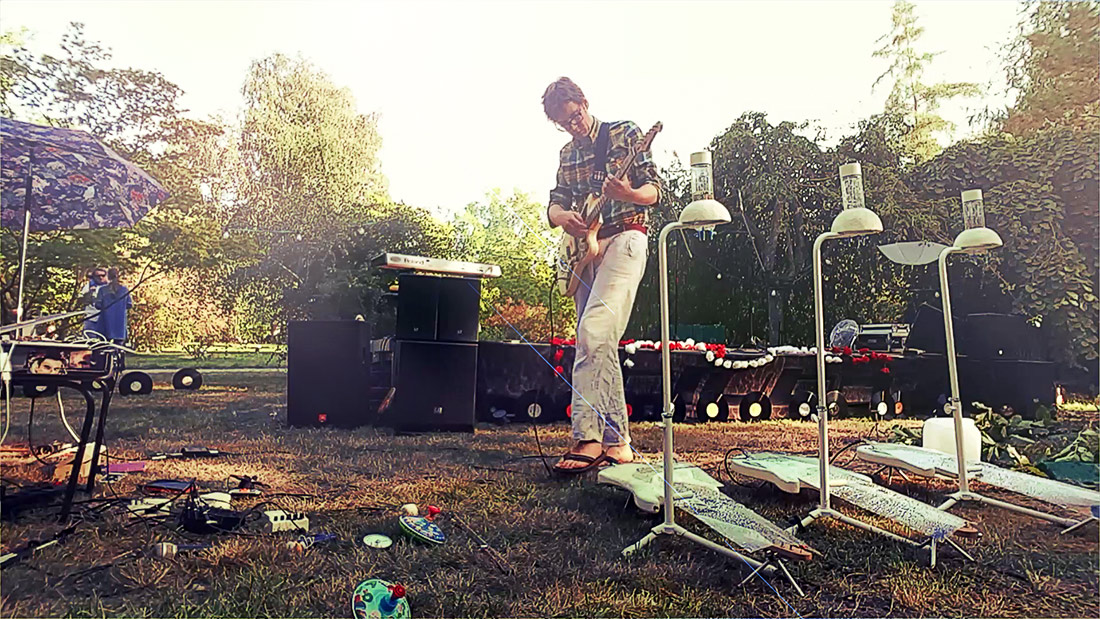 Huey Walker live at the Arboretum Greifswald
Huey Walker live at Arboretum, Greifswald
On August 24th, Huey Walker played an open air performance with his setup "Droops – Installation for three Guitars & Waterdrops" and various other instruments in the arboretum Greifswald.
Wenn ein atemberaubendes Naturschaubild auf feinste regionale, musikalische Klänge trifft, dann ist das Jahr wieder rum und die Sommernachtsklänge stehen auf dem Wochenendplan. Jährlich zum Ende des Sommers können sie hier, nicht nur noch einmal einen schönen Abend im wundervoll angelegtem Arboretum genießen, sondern sich auch dabei von regionalen Künstlern musikalisch die Seele streicheln lassen. Und zu sehen gibt es diesmal einiges!
Capturing the last evening spots of a hot day's sun, Huey Walker – who was announced by his bourgeois name Martin Hiller on the flyer – played a soothing and decelerated concert as a part of the event "Sommernachtsklänge" in the green compound of the arboretum, which is part of the botanic garden in Greifswald.
Guitars & Waterdrops at the Arboretum, Greifswald
Utilizing guitars and waterdrops as well as other instruments, tools and objects, Huey Walker created an ethereal and airy atmosphere within an audience of people sitting on park benches and lying around in the grass.
Here's a video of the performance: