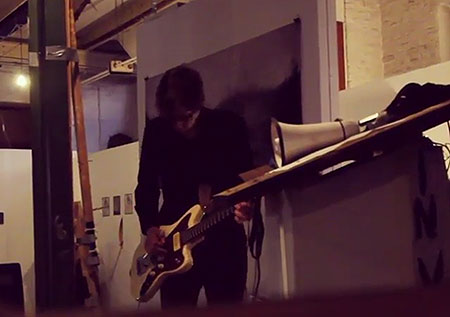 Videos: The Splendid Ghetto Pipers & Martin Holz live in der Polly Faber
The Splendid Ghetto Pipers spielten am 17.05.2014 in der Polly Faber eine gemeinsame Performance mit Martin Holz.
Dieser performte "Living Accident" von Hannah Felsen und las aus seinen Texten "Invasor" und "Le Samourai". The Splendid Ghetto Pipers trugen, untermalten, konterkarierten und betönten das Geschehen musikalisch. Die Veranstaltung fand im Rahmen des interdisziplinären Kunstprojekts "conquering places" statt.
Photos und der Mitschnitt von der gemeinsamen Performance wurden hier bereits veröffentlicht. Hier sollen nun – da wir auch in der wilden Smartphone-Welt angekommen sind – noch ein paar Videoschnippsel nachgereicht werden.
Alle Aufnahmen stammen im Original von Diemo Schramm.