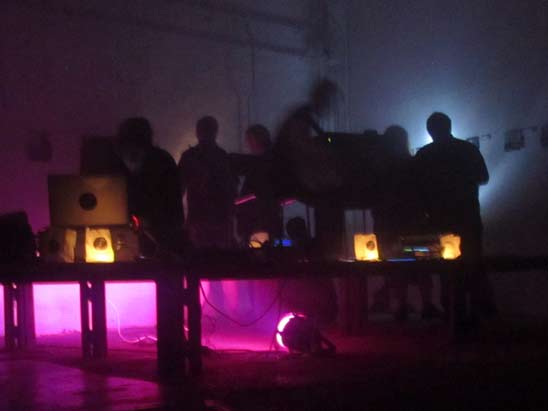 The Splendid Ghetto Pipers play "A Drone In The Dark"
Die The Splendid Ghetto Pipers spielten am 17. Mai 2013 in der laufenden "P365"-Ausstellung der Künstlerin Swinx ein Konzert unter lichtarmen Bedingungen. Die Besucher waren bei der Aktion mit dem Namen A Drone In The Dark eingeladen, die ausgestellten Werke mit Taschenlampen zu erkunden – in einem Raum voll Nebel, Dunkelheit und Sound.
The Splendid Ghetto Pipers spielen A Drone In The Dark
Ein paar Fotos von C. K. & Maria-Friederike Schulze.
Eine Galerie gibt es ebenfalls drüben im Fleischervorstadt-Blog.
Die Ankündigung zur Performance versprach Erleuchtung in Dunkelheit:
Die The Splendid Ghetto Pipers spielen als Live-Improvisateure in Duo-Formation freie Musik, wohltemperierten Lärm, entschlackten Zeitlupen-Shoegaze und echotische Geräuschteppiche, die in langsamem Wandel im Off aus Echo & Hall verebben.

File Under: brummende Kühlschränke, das Surren in den Überlandleitungen zwischen morschen Hochspannungsmästen, müdes Knistern eines alten Umspannwerkes.

Mitgebrachte Taschenlampen bringen Erleuchtung und erleichtern die Orientierung im Raum.