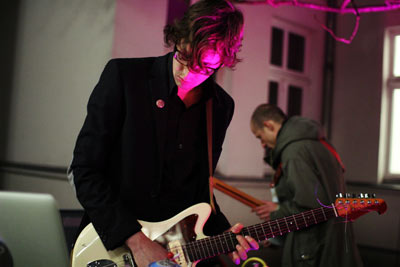 The Splendid Ghetto Pipers live im Amtsgericht, Greifswald
Zur Vernissage der Ausstellung "8B – die gute besserung" von Cindy Schmid alias swinx zusammen mit Urs Bumke spielten die The Splendid Ghetto Pipers am 13. September 2013 im Amtsgericht Greifswald ein Konzert im Rahmen der Kulturnacht.
Im dortigen Innenhof spielte das Freeform-Projekt unter freiem Himmel mehrere Sets, die später auf der Doppel-CD "Die Gute Besserung" veröffentlicht wurden.
The Splendid Ghetto Pipers im Amtsgericht, Greifswald
Video
Hier ein kurzes Video und einige Photos.

Video: Fleischervorstadt-Blog
Photos
Photos: C. K., Lucas Treise