The Splendid Ghetto Pipers were a musical Freeform-Drone-Duo from Greifswald. In 2014 they have reformed under the moniker The Kanadagans.
As part of its newly designed release-catalogue, Rakkoon Recordings releases an early recording of the band in a remixed and remastered version with extended artwork: "I Just Want It To Be A Sound" features the live-recording of a concert from April 5th in 2013.
The Splendid Ghetto Pipers – I Just Want It To Be A Sound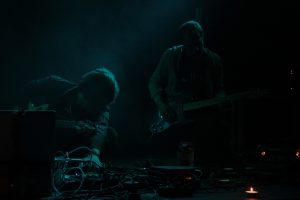 Opening up for a sounds'n'poetry performance by Bert Papenfuß w/ Ronald Lippok & Zonic Zound Zystem, The Splendid Ghetto Pipers played a slightly conceptional gig utilizing a dictum by John Cage.
Loosely tied to Cages aphorismic thought "I Just Want It To Be A Sound", the band tip-toes through the fluids of drippling synth-arpeggios and scraping modulations of an oscillating soundscape. A vocal tapeloop appears and soft, enchanting guitar-strummings step slowly into this scene of sound. In its second half, the track drowses in endless delaylandscapes and wanders through enoesque repetitions and hints of postrock-patterns — finally swelling into buzzing walls of reverb.
Using guitars, FX-pedals, synthesizers and tapeloops the music of The Splendid Ghetto Pipers sways in the wake of the sound and wanders through its rich spectral scenery.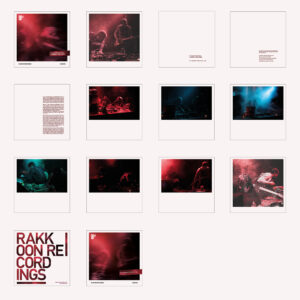 In their rippling splish-splash, live- recorded loops develop a life of their own, that correlates with the intuitive actings of the musicians and their machines. Free Improvisations arise, sometimes loud, sometimes quiet — always psychedelic & humming, explorating & wafting – drowned in Sound, being Sound.
Besides the typical guitar-waftings of the early recordings of The Splendid Ghetto Pipers, the music on "I Just Want It To Be A Sound" features a salient use of synthetic sounds. The results is a vivid mixture of drugged-up shoegaze-contemplations, somnambulant meditations and minimal-fluctuating ambient-processings — always in search for the endless, perfect, burrowing, wandering sound.
"I Just Want It To Be A Sound" is a vibrant recording of the band's concert on April 5th, 2013 at Ikuwo Greifswald, directly taken from the venues sound-board.
"I Just Want It To Be A Sound" as CD & Download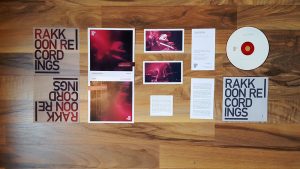 The CD-Edition of "I Just Want It To Be A Sound" comes in handmade packaging on red CDr with three inlays in colour-printed sleeve with transparent-paper overlay.
The inlays include liner notes about the concert. The download contains additional live-photos by M.-F. Schulze from the gig of The Splendid Ghetto Pipers at Ikuwo in a 14-pages PDF-booklet.
You can get "I Just Want It To Be A Sound" at bandcamp.