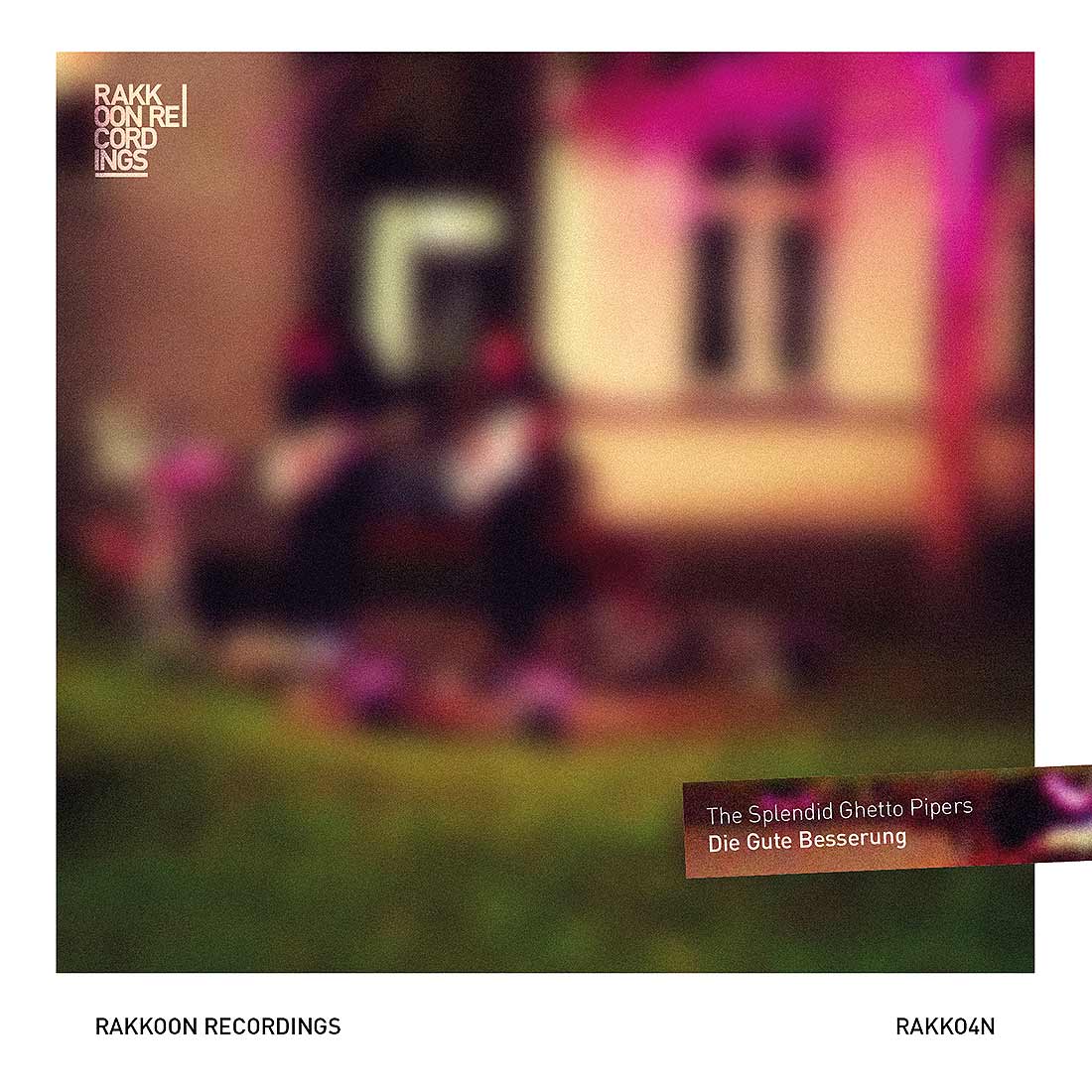 OUT NOW: The Splendid Ghetto Pipers – Die Gute Besserung (2017)
Four years after its initial release in a limited run on Rakkoon Recordings' antecessor Rain, Dear! Recordings & Revelations, the Double-CD-Album "Die Gute Besserung" by The Splendid Ghetto Pipers comes to new life as a re-release with new artwork and additional imagery.
The Splendid Ghetto Pipers – Die Gute Besserung
This double-CD-album documents a live-concert of The Splendid Ghetto Pipers at the vernissage of Cindy Schmid & Urs Bumke's collaborative exhibition "8B – die gute besserung" on Sept. 13th, 2013 at the art-gallery within the district court of Greifswald. The band played a long set inside the closed courtyard of the building, making use of its resonating walls all around.
This short video by Fleischervorstadt-Blog gives an impression:
Soothing Guitarloops and rumbling Walls-of-Fuzz
The two live-recorded tracks feature 103 unedited minutes of sonic soothings, warm breezes of blissful drones and velvet walls of sounds.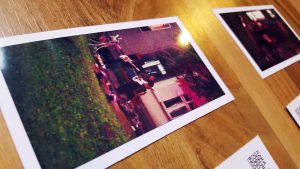 According to the title "Die Gute Besserung" (which can, in one level of meaning, be translated with "good and speedy recovery"), these two tracks generate an atmosphere of tenderness and equilibrium, changing from rough tension to relaxation, from static hum to soothing guitarloops and rumbling walls-of-fuzz.
An assuasive quality shines through these recordings of waltzing drizzletones and violet buzzings. Akin to previous releases, a distinctive way-of-play sets the tone within these two tracks by The Splendid Ghetto Pipers. A dreamy sense of interaction combines the sweeping post-postrock-guitar-waftings by Bassbees and the melancholic lofi-jarrings'n'ramblings by Huey Walker — all grounded by those deep, sizzling drones within their loopdevices.
Post-Postrock-Guitar-Waftings & Lofi-Jarrings'n'Ramblings
Here and then, gurgling synthesizers, uproaring noises and osscilating delays row into this constant groove, freeing up the space for another wave of quieter guitar-explorations — until they fade away in their very own endless looping…
…which is what track 2 ("Loops") documents with full consequence. While the musicians have left their instruments, the loops are rolling on and on, wandering around each other, ensnared by the vernissagy sounds of talking people and clinking glasses, which sort of underlines its cosy feel of tenderness. To be honest, after 15 minutes, there is a short reappearence of the musicians – to drop some guitar-notes, pushing the loops, a little bit, a slight return, giving the sleepy jingle-jangle another poke for its next thirty minutes.
This double-album shows The Splendid Ghetto Pipers, who are nowadays operating under their moniker The Kanadagans, doing some sprawling, puristic guitar-drones, waving through sublime psychedelic noisenoodlings, dreamy contemplations and frizzling freeform freakouts.
"I Just Want It To Be A Sound" as CD & Download
The CD-edition comes in handmade packaging on two black CDrs with two inlays in colour-printed sleeve with transparent-paper overlay. The included download contains additional live-photos of the band by M.-F. Schulze in a 10-pages PDF-Booklet.
You can get "Die Gute Besserung" at bandcamp.
Reviews
"A MASSIVE track"
(KUCI 88.9FM)

"promising drone-newcomer duo from Greifswald, Germany, presenting a live recording made Sept. 2013 with its full 103 minutes of handmade drone-glory performed w. guitars & electronics….; comes in very nice selfmade printed cardboard cover with photo-inlay" (Drone Records)

"[…] The modern world attempts to control time through regulation and scheduling; but time makes its own rules, which include the complete ignorance of its own existence. Time is an artificial construct shaped by perception, and perception is the key to understanding this recording. The first disc moves and moves and moves, while the second disc loops and loops and loops. Is time stagnant, or is time moving forward? Are we stagnant, or are we moving forward? The title track contains so much mutation that it seems a different track by the end. Born in a bed of ambience, it goes to sleep in a field of drone. Launched in tone, it lands in abrasion. Thin notes grow fat. The pure grows distorted. And yet, none of these changes are drastic. While listening, one thinks of the tiny, incremental, often unnoticed changes that occur over the space of a life. […]" (Richard Allen / A Closer Listen)

"an epic hour-and-a-half long drone fest, which is exactly what Die Gute Besserung is. Recorded live, the CD takes you through layers and layers of noise, static, hauntingly subtle melodies and tenderly quiet guitars. Great winter music." (Norman Records, UK)