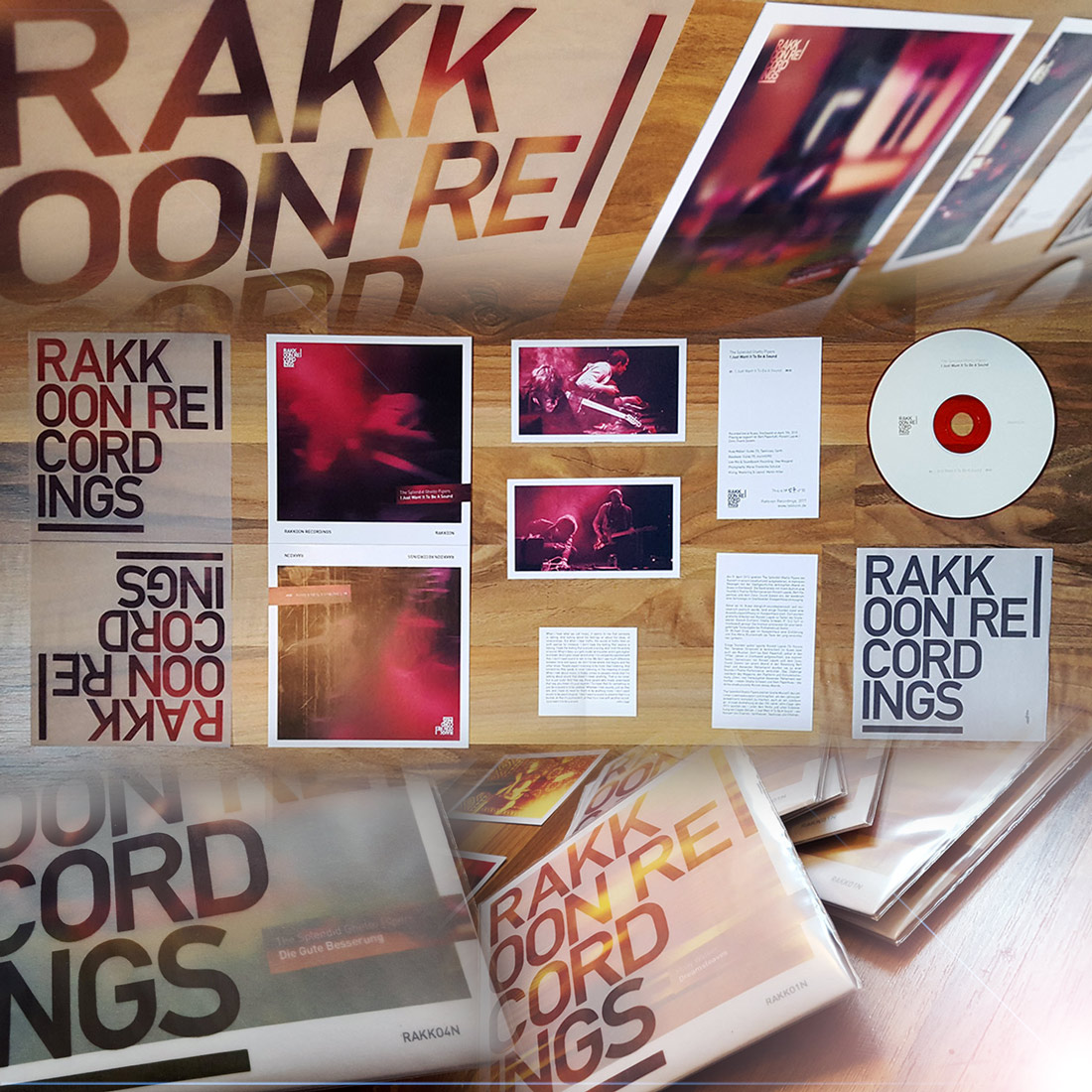 Rakkoon Recordings announces Release of Label-Catalogue
I am very happy to announce the release of new and upcoming music on Rakkoon Recordings in a new, uniform and cohesive cover-art-design.
Rakkoon Recordings releases its Catalogue of Recordings

Since there is a vast catalogue of years of recorded sessions, concerts, conceptional material and albums behind the releases and artists like Huey Walker and The Kanadagans, it was crucial for me, to find a way to release these recordings in a formally consistent way. In a manner, that merges all records into an aesthetically unified framework but at the same time sustains each release with its (photo)graphic artwork and its music.
As a musician and labeloperator i never felt that comfortable in the digital-only world. I never associated as a tumblr- or archive.org-thing or a classic netlabel. I do not feel well with simply throwing MP3s in a digital nirvana, disconnecting them from the grounds where their encoded music was made: in the artists real little, wondrous lifes — with creative visions and artistic principles behind.
The Joy of sonic Going-Ons.
Yet, there is a strong potential in working as a musician and label in the digital fields — having the opportunities to reach a worldwide audience. Speaking with people. Sharing and spreading ideas, emotions, imaginations and — not only artistical — impulses globally. Without borders and territorial limits. Which is at least what makes the music so endearing to me: the freewheelin', the sonic impacts, the creative, existentially senseless joy of creating things and sounds, getting and letting them happen, experiencing them, connecting them, being connected and overwhelmed by them. Or shorter: to experience and generate the phenomenons of sonic going-ons.
With a sense for synesthaetic perception i do love the visual artefacts as a counterpart and correspondence to the music. On the other hand there is a sober — sometimes even manic — sense for archival meticulousness bumping in my foolish, droning heart.
As a third fact there is this thing about the money: as an artist you usually do not have one. So there was the need to find an aesthetically and financially realizable way, that join our handmade and their accompanying digital releases into a coherent aesthetic system: a restrained, space-offering, but stringent artwork, that indexes and yokes our catalogue of releases.
Clean Typography & wafting Imagery
The typographic label-logo of Rakkoon Recordings was the starting point to the layout of our records. With its clean, square structure it sets a sort of framing and an informational, typographic design, that incorporates each releases' artwork and imagery. Accordingly, every release comes with a transparent-paper overlay of the logo — sort of superficially blurring its audio-visual contents.
Usually the CD-releases contain inserts with photos, credits and informations. Most of the physical releases include a download-code. The accompanying download of each release comes with a digital booklet with additional imagery and optionally further liner notes.
A cohesive Catalogue of Releases
This new label-design gives our releases the framing sense of unity and cohesiveness i feel within all of these releases. The clear-structured design gives the plain space needed for the audio-visual offerings: the music and the photos, images and graphics.
The inaugural release with the catalogue-number "RAKK01N" is the finally complete version of "Dreamsleaves" by Huey Walker. The album was released in 2014 as a one-off 2-track-release, which was long sold out and now comes to its actual beauty as it was meant to be — with an additional track, new artwork and new photographic attachements.
With this first and the upcoming releases, i am very happy to channel the things and processes of the past years finally into that sort of treatment and manifestation i always associated my creative doings with. For me, Rakkoon Recordings now adequately reflects the feel of cohesiveness and continuity i have in my own and the work of The Kanadagans. That archival meticulousness now properly pairs with the wondrous, vivid, gravitational and psycho-acoustic qualities these elusive phenomenons called music, sounds and sonic goings-on represent for me — as a way of percepting the world and in terms of my musically actings.
Thanks & Cheers,
Martin Hiller
November 2017
Get them at bandcamp
You can get our Releases at bandcamp.
Please check back to our website for upcoming informations about other distributors.