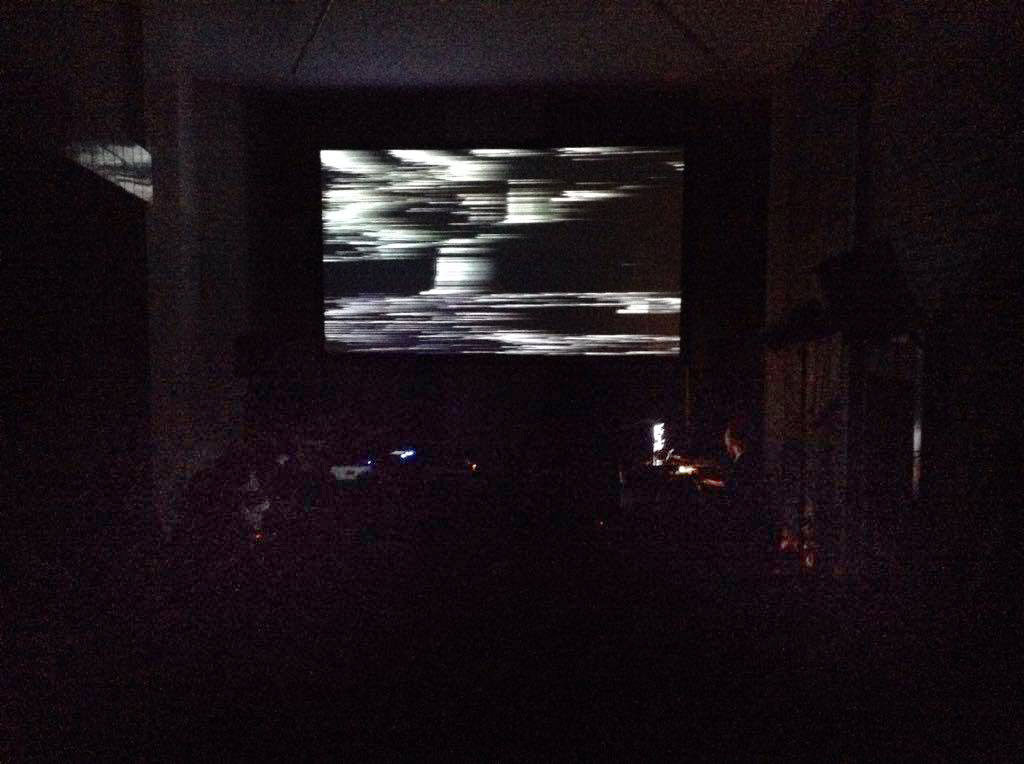 Not All Those Who Wander Are Lost
Not All Those Who Wander Are Lost is a collaborative Live-Performance of M. Kardinal and The Kanadagans – an audio-visual Journey through the invisible Movement of urban Landscapes and their Sounds.
On September 9th, 2016 the Work was performed live at Spektrum, Berlin. Sitting in a Room, opposite each other, a Videoscreen between, The Kanadagans played the musical, while M. Kardinal played the visual Side – both joining in the synaesthetic Qualities of analogue Drone and Glitch. With Guitars, Synths and those being processed in various Ways, The Kanadagans built a dense Vortex of buzzing, shimmering Sounds. Utilizing analogue Videoequipment, M. Kardinal processed and mangled various moving Images, until both – Audio and Visual – merged into a monochrome, yet glimmering Maelstrom.
Created from found footage of urban environments, the running magnetic tape will be analogue manipulated with a modified video mixer. The visual motifs sway into the music of The Kanadagans and vice versa. Based on guitars, FX-pedals and synthesizers, they create humming-buzzing drone music.

Dealing with the aspects of intuition, distortion, minimalism and monotony the audio-visual cooperation leaves the established paths of perception, finding the hypnotic pulse of urban landscapes channeling its vibration through the malfunction of the machine. Exploring the medium through malfunction as a homage to the poetry of failure. A cathartic wander through humanity in the machine, and a tribute to the emotive – often flawed – feedback of the human mindscape. Gleaning and wafting within an intuitive communication that rises from the mutual submersion and a subliminal sense for the playing and phrasings of each other's musical and visual counterpart. Not all those who wander are lost.

The Kanadagans setting up at Spektrum, Berlin (Photo by C. Köhn)

The Kanadagans (l.) and M. Kardinal (r.) setting up at Spektrum, Berlin (Photo by Philipp Priebe)

M. Kardinal & The Kanadagans performing "Not All Those Who Wander Are Lost" live at Spektrum, Berlin
SPEKTRUM is a space of convergence for cultural communities and transdisciplinary groups emerging and operating in and off Berlin. The project aims to bring confrontation, open knowledge and a platforms for idealisation, realization and presentation of technology-based artworks, science-focused events and futuristic utopias based on the principle "do-it-together-with-others".
See a Video-Excerpt of the Performance here on Vimeo.
Second Collaboration after "Tschaika"
In 2014, the three Artists collaborated for the audio-visual Work "Tschaika", The Kanadagans then working under their former moniker The Splendid Ghetto Pipers.
Related Links