Vom 12.5. bis 30.6. findet in Greifswald das Projekt "conquering places" statt.
"Es vereint Künstler, Autoren und Wissenschaftler in einer laborativen Situation, um ein gemeinsames Experimentierfeld zu bilden. Austausch, Diskussion und Forschung bestimmen das Skript dieser Unternehmung. Es ist im Dialog mit allen Beteiligten entstanden und kann sich mit dem Prozess verändern."
Conquering Places – Interdisziplinäre Kunst in Greifswald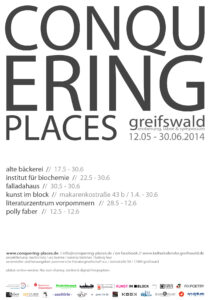 An verschiedenen Orten in Greifswald werden verschiedene Ideen, Disziplinen, Projekte und Konzepte erstellt, vorgestellt, dargestellt und umgesetzt.
Rain, Dear! Recordings & Revelations wird durch die musikalische Teilnahme der The Splendid Ghetto Pipers auch am Projekt mitwirken.
Ein Interview mit Martin Hiller zum Label Rain, Dear! Recordings & Revelations, zu Musik im Allgemeinen und zum Musikmachen im Spezielleren kann hier bei conquering places gelesen werden.
The Splendid Ghetto Pipers spielen u.a. am 17.5. in der Polly Faber, im Rahmen einer Performance von Martin Holz, Hannah Felsen und Urs Bumke. Eine Auflistung aller Veranstaltungen findet man im hier verlinkten PDF-Dokument.
Links