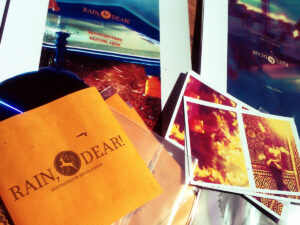 Auf dem Verkaufe-Tisch beim Record-Release-Konzert von [broːm] am 18.07. im Ikuwo wird es neben deren Vinyl-EP "fuse"  auch neue CDr-Releases von Huey Walker und The Splendid Ghetto Pipers geben.
The Splendid Ghetto Pipers hauen auf "Nightpier" endlich den Live-Mitschnitt ihres Konzerts beim Fleischervorstadt-Festival 2013 in Greifswald raus. Es seien ihre bisher eno-esquesten Aufnahmen, so sagt man.
Auf "Dreamsleaves" veröffentlicht Huey Walker zwei neue Aufnahmen – eine davon 30, die andere 15 Minuten in der Spieldauer.
Das zweite Stück des Albums, "Reflected Dreams Of Blue Travels" hört sich übrigens so an: