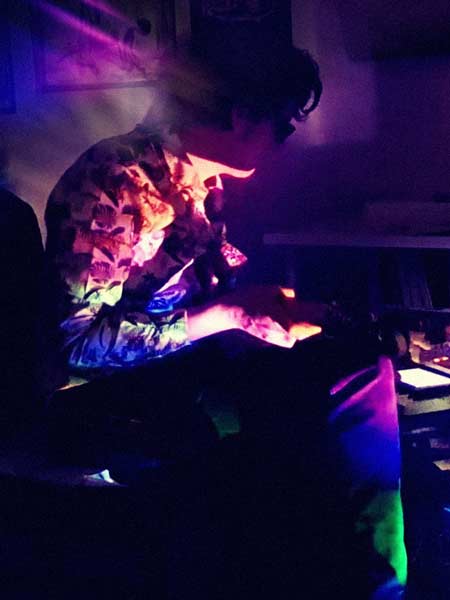 Hurley Wake live at PolenmARkT Festival 2019 (Video & Photos)
On November 20th in 2019, Martin Hiller alias Hurley Wake played his music at a concert during the PolenmARkT Festival 2019 at the art space PKBkunstLADEN in Greifswald.
Hurley Wake plays music live at PolenmARkT Festival 2019
Utilizing a dreamy, spun guitar, processed vinyl bits, shruti-like keys and even some lofi-rhythms, he developed some freeform wheelings and whirrings at this art space concert during polenmARkT Festival – being sort of a mixture of the artist's various styles, like the drony stuff, the aleatoric principles and the lofi-dreamy twee-tinkling jingle-jangle. After the concert, the actress Elisa Ottersberg read texts by polish author Witold Gombrowicz.
Video: Hurley Wake live at PKBkunstLADEN
Photos: Huey Walker aka Hurley Wake
Dr. Marek Fialek captured some Photos from that evening.
Sidenote
In advance of the evening, there was also some sort press info in german language going round the web, pretending the comeback of Ferdinand F., an old hit singer who unfortunately wasn't able to perform due to other liabilities.
Luckily one person from The Dorschleber Dream Collective was available and jumped in to play a one-off gig: this was Hurley Wake, a new moniker of Martin Hiller alias Huey Walker.