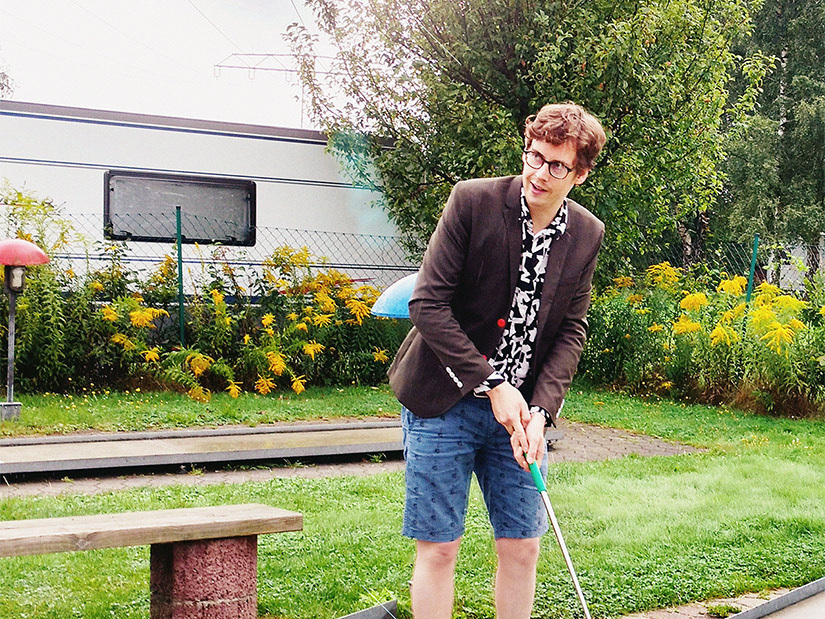 Huey Walker live in Ahrenshoop and Greifswald
The second half of year is always a weird thing: the year, that wild bunch of twelve crazy mates (we usually call them "month" in here), starts to realize, that summer's almost gone and autumn's here to come. Slowly but gently the days start to get shorter and the sunlight remembers its colourful sides after all those days of full-throttled, gleamy, steamy white stupid heat. Serenity and calmness floats through our sun-pickled bodies. Even Huey Walker, that human, heat sensitive barometer of melancholic joyfulness, crawls out of his sparkling weariness to play some music in front of people.
In late August 2019, Huey Walker will play two concerts with multiple guitars and various instruments, tools and objects at Kunstkaten Ahrenshoop and at the Arboretum in Greifswald.
On August 17th, Huey will play two performances during the "Lange Nacht der Kunst" in Ahrenshoop. All art-spaces, galleries and cultural spots open their doors for various exhibitions, performances, concerts and other happenings.  Huey Walker will play on 09:30 and again on 10:30 pm at the Kunstkaten in Ahrenshoop.
Der Musiker und Sound-Künstler Huey Walker spielt mit verschiedenen Klangquellen wie Gitarren, Spieluhren und alten Schallplatten atmosphärische Musik, die auch Elemente von Zufallsoperationen und Klanginstallationen verwendet. In Ahrenshoop spielt er bei gutem Wetter draussen eine Performance mit mehreren Gitarren und Wassertropfen. Das Wasser tropft auf die Gitarren und bringt sie so zum Klingen. Es entsteht ein elegisches Klanggebilde, mit dem der Musiker mit Mundharmonika und anderen Instrumenten in Verbindung tritt.

Bei weniger guter Witterung spielt Huey Walker eine ähnliche Performance im Kunstkaten mit Gitarren und kleinen Glöckchen, die auf die Gitarren fallen.

(Announcement / Press-Info)
One week later, on August 24th, Huey Walker – who is for unknown reasons announced by his bourgeois name Martin Hiller on the flyer – will set up his installation "Droops" for three guitars and waterdrops inside the green compound of the arboretum in Greifswald. The area, which is part of the botanic garden, will be the spot for various concerts on this evening during the "Sommernachtsklänge", that will happen there already for the 10th time. Huey will play an off-stage open air performance on the green grass, utilizing "Droops" and various other instruments and objects. The entry fee will be benefitted to the maintenance of the greenhouses of the botanic garden and arboretum.
Huey Walker at Arboretum Greifswald
as part of "Sommernachtsklänge"
24/08/2019
various concerts between 17:00 – 22:00
entry: 16:00