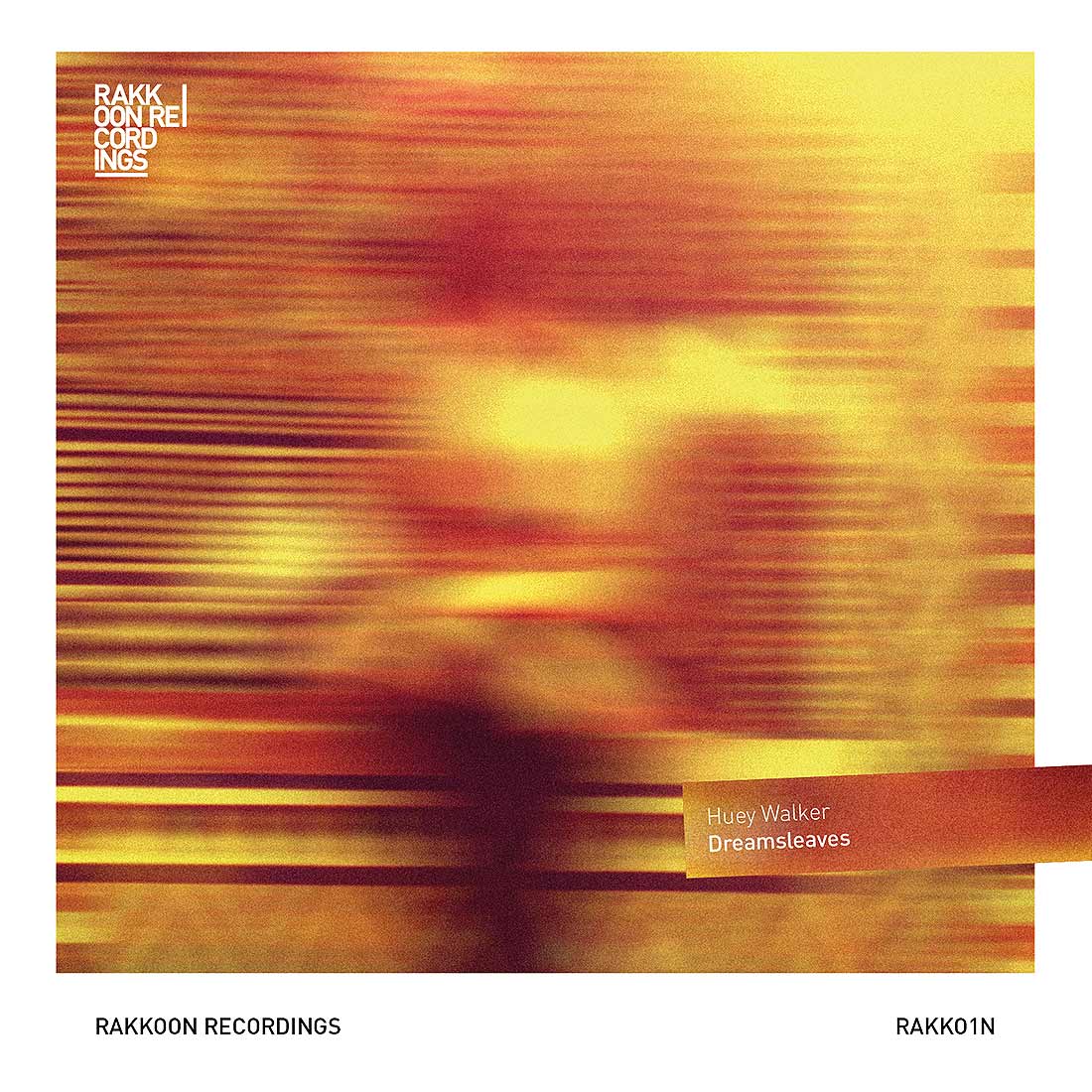 OUT NOW: Huey Walker – Dreamsleaves (2017)
As part of the newly designed Catalogue of Rakkoon Recordings, Huey Walker releases his album "Dreamsleaves" in a finally remastered and conceptionally complete version. The album now contains an additional track and new photographic artwork.
Huey Walker – Dreamsleaves
What was released in a small one-off edition as a 2-track-album in 2014, now finds its final, pure 3-track-beauty with additional photographic artwork.

The Songs on "Dreamsleaves" — no one under 15 minutes — meander through fields of glitchy leftfield-electronica and blissfull, airy, ambient explorations.
A narrative impression fuses these three tracks into a journey of fluidity with gradual breachings and excavations of schemes and themes. The vague becomes  distinct and vice versa.
Blissfull, airy, ambient Explorations
Based on sine waves, fluttering scapes and modulated field recordings, it all starts with some airy drones and swooshing,  breathing Billows of Reverbs — marbled with long-held synth-chords and some teeming, melodic flocks.
During the first track "Puddles Watching Leaves Swim", this bright and breathy flow ebbs over into a slow sort-of-glitch-hop-thing made of purling tones until the droning side of sound takes it over to the drowning side again — counterparted by some twirling vocalsample-lurchings.
The second Song "Reflected Dreams Of Blue Travels" floats in timid, tonal vibrancies, travelling through sleepy-cloudy clusters in wide rooms of hall & echoes, spindrifting into mild-mannered hints of distortions, finally decaying in a quiet ease.
"Alterable Noons Of Loitering" pushes the narrative structure of field recordings and layered drones into a wry indication of what might be a droll songwriter-song — with a harp and cheesy lyrics.
Pearly, manifold, floating structures
The recordings on "Dreamsleaves" were made on multiple occasions and dates. Yet, there is a strong sense of cohesion here. All tunes have similar, conceptional prefixes: layering various soundsources into pearly, manifold, floating structures. Tracks 1 and 2 were recorded in the heat of july 2014 at Hurley Wake in Greifswald, near the baltic sea. Bits of the first track (the ones with organs & guitar) were recorded in january 2013 live at Madame Claude, Berlin. "Alterable Noons Of Loitering" was made during one week as a conceptional recording within the art project "Schaufensterschau" in Greifswald, utilizing on-spot-recordings of rain, recorded lofi-nightime-memos on acoustic-guitar and speckled, dreamy synthesizer-tones.
"Dreamsleaves" as CD & Download
The tracks-titles are taken from poems by Frank O'Hara. The Cover- and Inlay-Photography shows Images taken at Jardin Majorelle in Marrakesh. The CD-Edition of "Dreamsleaves" comes in handmade Packaging on blue CDr with two Inlays in colour-printed sleeve with transparent-paper overlay. The included Download contains additional Photos in a 14-pages PDF-Booklet.
With this first and the upcoming releases, i am very happy to channel the things and processes of the past years finally into that sort of treatment and manifestation i always associated my creative doings with. For me, Rakkoon Recordings now adequately reflects the feel of cohesiveness and continuity i have in my own and the work of The Kanadagans. The archival meticulousness bumping in my foolish, droning heart now properly pairs with the wondrous, vivid, gravitational and psycho-acoustic qualities these elusive phenomenons called music, sounds and sonic goings-on represent for me – as a way of percepting the world and in terms of my musically actings.

"Dreamsleaves" sort of mirrors this state of being in a mild-mannered, yet slightly sparkling way. It comes on blue CDr with Inserts and Download-Code. The according digital Release comes with a 14-pages PDF-booklet.

(Huey Walker)
You can get Dreamsleaves at bandcamp.
Artwork