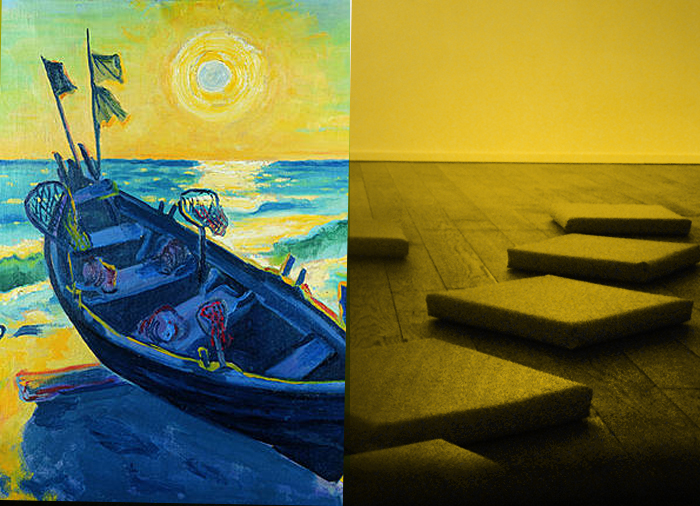 Audio-Visual Meditation over Max Pechstein and Karl Schmidt-Rottluff
As part of an accompanying program during the exhibiton "ZWEI MÄNNER – EIN MEER: Pechstein und Schmidt-Rottluff an der Ostsee", an audio-visual work by Huey Walker and Lucas Treise was shown at Pommersches Landesmuseum in Greifswald from March 29th to June 28th in 2015.
Inspired by the works of the expressionist painters Max Pechstein and Karl Schmidt-Rottluff, in particular by Pechstein's "Boot bei aufgehender Sonne", they created a meditative reflection on the colourful imagery and the tempered moods of the places at the baltic sea depicted on the paintings.
A slowly changing music, based on surging sounds of a piano and a guitar, corresponds with the calmly alternating visuals. In a synaesthetic sense, colours, blurred schemes, patterns and intimations of landscapes are blended into a drifting wake of relaxation, deceleration and crackling inspiration – like Pechstein and Schmidt-Rottluff might have found in their late summer days at the baltic sea.
The audio-visual work was shown as a permanent loop inside the former Konventshaus at Pommersches Landesmuseum, a room for sideshows, special exhibitions and open workshops. People were invited to calm down, relax and let their impressions of the exhibition reverberate.
"Angeregt durch das Bild "Boot bei aufgehender Sonne" von Max Pechstein haben Lucas Treise und Martin Hiller eine Bild-Klang-Collage gestaltet, die die Besucherinnen und Besucher einlädt, sich in Farbflächen und Farbräume fallen zu lassen und die Eindrücke der Ausstellung nachwirken zu lassen.

Ausgehend vom satten Komplementärkontrast zwischen Gelb und Blau in Pechsteins Bild "Boot bei aufgehender Sonne", wandert die Bild-Klang-Collage langsam und in meditativer Wirkung durch die, mal kräftigen, mal pastellenen Farbtöne an denen sich die beiden Maler in ihrem Schaffen bedienten. Die Ostsee und das Meer, die für Pechstein und Schmidt-Rottluff viele Sommer lang einen Ort des kreativen Wirkens darstellten, finden in den wellenhaft plätschernden Klängen der Musik ebenso ihren Widerhall, wie Eindrücke von ruraler Fischerhüttenromantik und abendlicher Ruhe und Kontemplation.

Die vibrierende Energie, die in den Bildern der beiden Expressionisten ebenso bestimmend ist, wie ein in sich ruhendes Verharren (viele der Werke zeigen ruhende Landschaften und rastende Menschen) spiegelt sich im Sog der langsam changierenden Farben und unterschwellig fließenden Musik wider."

(Informational Announcement)
Related Links